New cost-effective VIP Roller
1 December 2017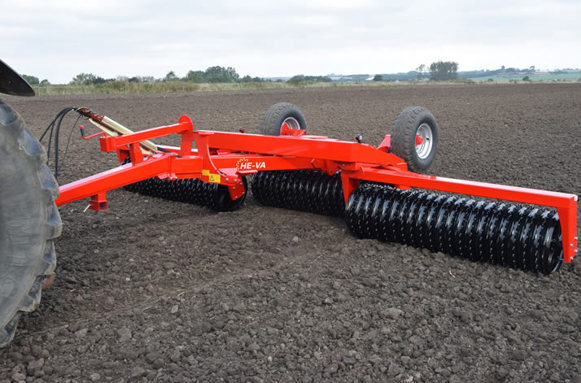 The new VIP Roller introduces an entry level model to the HE-VA range of rolls, offering high output rolling, whilst retaining many of the features of the well regarded larger models.
The whole frame of the new VIP model has been redesigned and strengthened to take either 510, 560 or 620 Cambridge and Breaker rings, which are mounted on 60mm axles to take the extra weight whilst ensuring longevity.
Available in working widths from 4.5m to 8.2m, the hydraulic folding rolls preserve the quality HE-VA build but are made to a simpler specification to provide a cost-effective option.
Commenting James Woolway, OPICO Managing Director said, "HE-VA is well-known for its build quality and the new VIP Roller is no exception; we have listened to the market and are delighted to launch a redesigned product that can take larger rings, giving customers a reliable but lower cost alternative."
The rolls can be easily folded and unfolded from the seat of the tractor cab, taking just seconds, saving the operator time and hassle. They fold down to 2.45m ensuring straightforward transport. In the completely folded position the weight of the wings is carried between the tractor and transport wheels improving stability. The draw bar height is easily adjusted to suit different tractors with a simple stop bolt.
The renowned HE-VA Special Active Transfer (SAT) system can be factory fitted as an optional extra and is particularly recommended for uneven ground as the system hydraulically spreads the weight across the full width of the rolls giving more even consolidation across all sections of the machine.